Director, Producer, and Writer: Katrina Browne
Co-Director, Editor, and Writer: Alla Kovgan
Co-Director and Executive Producer: Jude Ray
Co-Producer and Executive Producer: Elizabeth Delude-Dix
Co-Producer: Juanita Capri Brown
Director of Photography: Liz Dory
Sound Recordist: Jeffrey Livesey
Original Score by: Roger C. Miller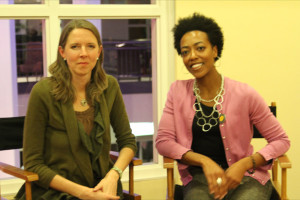 From left to right: Katrina Browne and Juanita Brown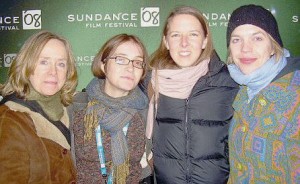 From left to right: Elizabeth Delude-Dix, Alla Kovgan, Katrina Browne and Sarah Archambault.
Animators: Handcranked Productions
Supervising Editor: William Anderson
Consulting Producers: William Anderson, Llewellyn Smith
Associate Producers: Sara Archambault, Catherine Benedict, Heather Kapplow, Leslie Koren, Beth Sternheimer
Line Producers: Africanus Aveh, Boris Crespo, Amy Geller, Lucia Small
Researcher: Jennifer Anderson
Historical Consultants: James DeW. Perry, Joanne Pope Melish
Music Supervisors: Daniel Arriaga, Alla Kovgan
For a full list of film credits, click here
Katrina Browne, Producer/Director/Writer
Katrina Browne initiated the production of Traces of the Trade, and the family process at its core, in 1999. Several hundred people shared their talents as part of the filmmaking and dialogue process over nine years. While still in rough-cut form, the film contributed to the Episcopal Church's 2006 decision to atone for its role in slavery.
Traces premiered in 2008 at the Sundance Film Festival, and then aired nationally on PBS's premier showcase of documentary film – P.O.V. – reaching over 1.5 million Americans. Likely millions more were reached through extensive press coverage, including: The New York Times; The Washington Post; numerous daily papers in major cities; AP Newswire and Gannett News Service stories; The Early Show on CBS; Bill Moyers' Journal on PBS; several interviews on NPR. Browne and the rest of the research team were nominated for an Emmy Award for research. Along with numerous other awards, Ms. Browne received the Women Film Critics' Courage in Filmmaking Award and the film received the prestigious Council on Foundations Henry Hampton Film & Video Award. Major funding has been granted for the film and its distribution/outreach by the Ford Foundation, the Kellogg Foundation, the Wyncote Foundation and many others.
Katrina has traveled extensively with the Traces since its release – in the U.S. and overseas – as a public speaker, facilitator and trainer. She has presented, whether solo or with her esteemed colleagues and family members, in schools, colleges and universities, museums and historic sites, religious congregations and conventions, workplaces and professional conferences, and for government groups. Highlights include screenings for: several hundred foundation executives at the Council on Foundations annual conference; the State Legislature of Connecticut at invitation of the Senate President and on Capitol Hill as part of Congressional Conversations on Race; the Samuel DeWitt Proctor Conference for black clergy; the Union of Black Episcopalians; several denominations' conventions; cadet training at the US Coast Guard Academy; National Constitution Center; UCLA School of Public Affairs; Rhode Island headquarters of Bank of America; at the United Nations for slavery/slave trade remembrance day; and state-wide series with state humanities councils and groups such as Rhode Island for Community and Justice.
Internationally, Traces was selected by the U.S. State Department to be part of the American Documentary Showcase, with screenings hosted by U.S. embassies around the world; and by the Caribbean Traveling Film Festival to tour to numerous Caribbean and Latin American countries. Katrina has been hosted for events by U.S. embassies in the Dominican Republic, Sweden, and at the European Union headquarters in Brussels. The U.S. embassy in France has made a grant for French subtitles. Broadcasts have taken place in Canada, Bermuda and Cuba. The Cuban premier took place in connection with the historic visit of the replica of the slave ship Amistad in 2010.
In late 2009, with her cousin James Perry and colleague Juanita Brown, Katrina founded a non-profit – the Tracing Center on Histories & Legacies of Slavery – to deepen their work with schools, public history sites, and religious institutions. She served as the founding executive director. She and her colleagues, including also Marga Varea and Kristin Gallas, have received accolades for their programs at numerous public and independent schools, their teacher trainings including through state departments of education and humanities councils, and at venues such as the Smithsonian National Museum of African American History and Culture. Ms. Browne has an essay in The Transatlantic Slave Trade and Slavery: New Directions in Teaching and Learning, in which she explores the psychological legacies of slavery for white Americans and the implications for how slavery is taught to students of all backgrounds. Katrina has also contributed to the text panels at the President's House exhibit on slavery in Philadelphia (where George Washington held enslaved people while serving as the first U.S. President) and to training for National Park Service rangers who work at the Liberty Bell and Independence Hall.
Ms. Browne's work now includes not only work with the film, but racial awareness training more broadly. For example, she was one of the trainers brought in by the Smithsonian National Museum of African American History and Culture to provide training for volunteer docents and visitor services staff prior to the Museum's opening. She serves as a "healing practitioner" for the Kellogg Foundation's America Healing initiative. She is also exploring racial healing through highly accessible forms of dance, movement and storytelling – through InterPlay (she is a certified leader), and in collaboration with the Dance Exchange, and with Afro Flow Yoga.
Prior to producing Traces, Ms. Browne co-founded Public Allies, an AmeriCorps program now operating in 23 cities, and she served as Outreach Planning Coordinator for the film adaptation of Anna Deavere Smith's award-winning play on the L.A. riots: Twilight: Los Angeles. She has an M.A. in theology from the Pacific School of Religion where she wrote a thesis on film and civic dialogue.
Alla Kovgan, Editor/Co-Director/Writer
Alla Kovgan is a Boston-based filmmaker born in Moscow. Her films, and the films she has co-directed, have been screened at the Sundance Film Festival, Boston's Museum of Fine Arts, Lincoln Center (New York), Brooklyn Academy of Music, Montreal Film Festival (Canada), New York African Film Festival, and broadcast on ZDF TV (Germany). Alla has been involved in creating "intermedia" performances (with KINODANCE and Elaine Summers), making dance films (with Alissa Cardone, Victoria Marks and Nicola Hawkins), and working on documentaries about dance (Movement (R)evolution Africa with Joan Frosch and Terpsychore's Captives II with Efim Reznikov). She is an international director of the St. Petersburg Dance Film Festival KINODANCE in Russia and a co-curator of Balagan Experimental Film Series in Boston. In 2007, Alla was awarded a film commission from the Experimental Media and Performance Arts Center for nora chipaumire: a physical biography. Together with Robin Hessman, Alla is currently working on a documentary, Russia's Pepsi Generation, about the last generation of Soviet children to grow up behind the "Iron Curtain," to be broadcast on PBS's P.O.V. in 2009.
Jude Ray, Co-Director/Executive Producer
Ms. Ray is an award-winning writer/producer/director with wide-ranging experience as a filmmaker of social issue, cultural and historical documentaries and investigative reports. Her credits include programs on PBS, HBO, BBC, A&E and Turner Broadcasting, and a five-year freelance stint with the BBC as an investigative reporter, U.S. producer, field, segment and associate producer for the acclaimed public affairs series, Panorama. Her producing, associate producing and writing credits on prime-time documentary specials and series for major broadcasters include Fare Game (PBS, NHK and international broadcast), What Price Clean Air? (PBS), Russia for Sale: The Hard Road to Capitalism (PBS), "Increase and Multiply" (PBS), A Walk Through the Twentieth Century With Bill Moyer (PBS), and Anatomy of Love (TBS). She has also served as senior writer and consulting producer for independent feature documentaries, including H2 Worker, which won a Sundance Grand Jury Prize, and Calling the Ghosts: A Story about Rape, War, and Women (Sundance/Soros Fund, HBO). Ms. Ray began her career as a media activist with the pioneering media advocacy organization, Association for Independent Video and Filmmakers (AIVF), and went on to work on political spots for the Sawyer-Miller Group and story development for HBO. Ms. Ray is a recipient of the National Women in Broadcast and Radio Award and numerous grant awards, including the National Endowment for the Humanities and New York Times Foundation (for her post-9/11 work on trauma relief for parents and children).
Elizabeth Delude-Dix, Co-Producer/Executive Producer
Elizabeth Delude-Dix wrote, directed and produced Stories from Stone and No Simple Truth, two short films on slavery in Rhode Island that screened on RI PBS. She is a co-producer of First Face, an ITVS documentary currently in production. She produced Tell Another Mother, an independent radio project of first-person 2004 presidential campaign spots that aired in Florida, Ohio and Pennsylvania. She is a founder of Rhode Island's first public radio station, WRNI and a past Vice-President of the Foundation for Ocean State Public Radio. She currently serves on the Advisory Board of I-Witness Video a New York-based archive. As an International Observer with IPEC, an independent human rights organization, she filmed and photographed contentious parades in Northern Ireland. Ms. Delude-Dix taught as an Adjunct Professor of Cultural and Historic Preservation in an undergraduate program she helped develop at Salve Regina University, Newport, Rhode Island. She is a past Board Chair and Grants Chair of the Rhode Island Council for the Humanities and has served as a board member and advisor to a number of arts and advocacy organizations.
Juanita Capri Brown, Co-Producer
Juanita has lead Traces dialogues and workshops around the country and internationally. She now works with educational institutions to explore challenging issues such as cultural competence and global citizenship, and consults for non profit and government organizations in strategic meetings design and facilitation, and organizational development via Juanita Capri Brown & Associates.  Juanita co-designed the transatlantic journey and facilitated many of the DeWolf family discussions. Currently, Juanita leads Traces dialogues and workshops around the country and internationally. She also consults nonprofit and government organizations in strategic meeting design and facilitation, and organizational development. She has creatively engaged San Francisco Bay Area schools in difficult dialogue around community building, race, class and gender identities. She developed policy and organizational analyses for California educational and nonprofit organizations such as Oakland Unified School District, Oakland Small Schools Foundation, and Bay Area International Development Organizations. In her role as Assistant Director for Development at the Coalition of Essential Schools, Juanita raised start-up and operating funds for small-by-design schools in underserved communities. Juanita holds a Master's in Public Policy from the Goldman School at the University of California at Berkeley. She also studied at Stanford and the University of Ghana at Legon. A Chicago native, Juanita lives in Oakland, California.
Liz Dory, Director of Photography
Liz Dory has shot numerous documentaries, ranging in cinematic style from formal, pictorial composition to verite hand-held camerawork, in formats from mini DV to HD and 35mm. Her cinematography is featured in the documentary An American Solider for filmmaker Edet Belzberg, also premiering at Sundance 2008 in competition; and in Refuge, a film about Tibetan refugees featuring the Dalai Lama, Melissa Mathison and Martin Scorcese, and with the directing and producing team of David and Laure Shapiro. She is currently in production with the Shapiros on their latest film, Finishing Heaven for director Mark Mann. Her camerawork is featured in broadcast documentaries for Nova, The Discovery Channel and National Geographic and television presenters such as 60 Minutes. Liz also worked on the critically acclaimed documentaries JAZZ, Frank Lloyd Wright, Elizabeth Cady Stanton & Susan B. Anthony: Not For Ourselves Alone for director Ken Burns and cinematographer Buddy Squires and the series New York for director Ric Burns.
Roger C. Miller, Original Score
Musician Roger Miller currently performs in The Alloy Orchestra, on keyboards. This critically-acclaimed group composes new scores for silent era films and tours internationally. He is also in the rock band Mission of Burma, on guitar and vocals. This group has 6 albums out, tours internationally, and has been praised in the New York Times, Spin, Rolling Stone, etc. He began scoring animation and film in 1993 and continues this work today.
Handcranked Productions, Animation/Graphics
The company was formed in 2001 by Bryan Papciak & Jeff Sias who first worked together at Olive Jar Studios in Boston, where they directed highly original mixed-media spots for television and film. Handcranked produces commercials and graphics for clients such as Sesame Street, Queer Eye for the Straight Guy, Samsung, HBO, NBC, ESPN, and the Sundance Channel. They are also producing their own independent art & film projects including the feature documentary, American Ruins.
William Anderson, Supervising Editor / Consulting Producer
William has over 100 theatrical and broadcast editing credits (for PBS, HBO, NBC, etc.) including: Tupperware!, Sweet Old Song, Al Pacino's Looking for Richard, Errol Morris's A Brief History of Time, Slavery Documents, The Holocaust, and Hellfire: A Journey from Hiroshima (Academy Award nominee, Best Documentary Feature). He has received four Emmy nominations, an Emmy Certificate, and the American Cinema Editors Eddy.
Llewellyn Smith, Consulting Producer
From 1988-1995, Mr. Smith served as Series Editor for the critically acclaimed PBS history series American Experience. He was Project Director for the Emmy Award-winning series Africans in America: America's Journey Through Slavery, and produced/directed Part IV. He also produced/directed Jubilee Singers: Sacrifice and Glory (PBS, 2001), and Part III of Race: The Power of an Illusion (PBS, 2003); and Forgotten Genius (PBS, 2007).
Advisors
Macky Alston: Director, Family Name
Ron Bailey: Professor of African American Studies, Northeastern University
Edward Ball: Journalist and author, Slaves in the Family, winner of the 1998 National Book Award
Chuck Collins: Director, Program on Inequality and the Common Good, Institute for Policy Studies; Co-founder, Responsible Wealth and United for a Fair Economy; Co-author, Wealth and Our Commonwealth with Bill Gates Sr.
Franklin D. Gilliam, Jr.: Dean and Professor of Public Policy and Political Science, UCLA School of Public Affairs
Norman Lear: Award-winning television and film producer and director; civic leader
Joy DeGruy Leary: Assistant Professor, School of Social Work, Portland State University; author, Post Traumatic Slave Syndrome: America's Legacy of Enduring Injury and Healing
Peggy McIntosh: Associate Director, Wellesley College Center for Research on Women; author, "White Privilege: Unpacking the Invisible Knapsack"
Joanne Pope Melish: Associate Professor of History, University of Kentucky; author, Disowning Slavery: Gradual Emancipation and "Race" in New England, 1780-1860
Alyce Myatt: Managing Director, Grantmakers in Film + Electronic Media; former Vice President of Programming, PBS
Rev. Canon Edward Rodman: Professor of Pastoral Theology and Urban Ministry, Episcopal Divinity School
Ellen Schneider: Executive Director, Active Voice